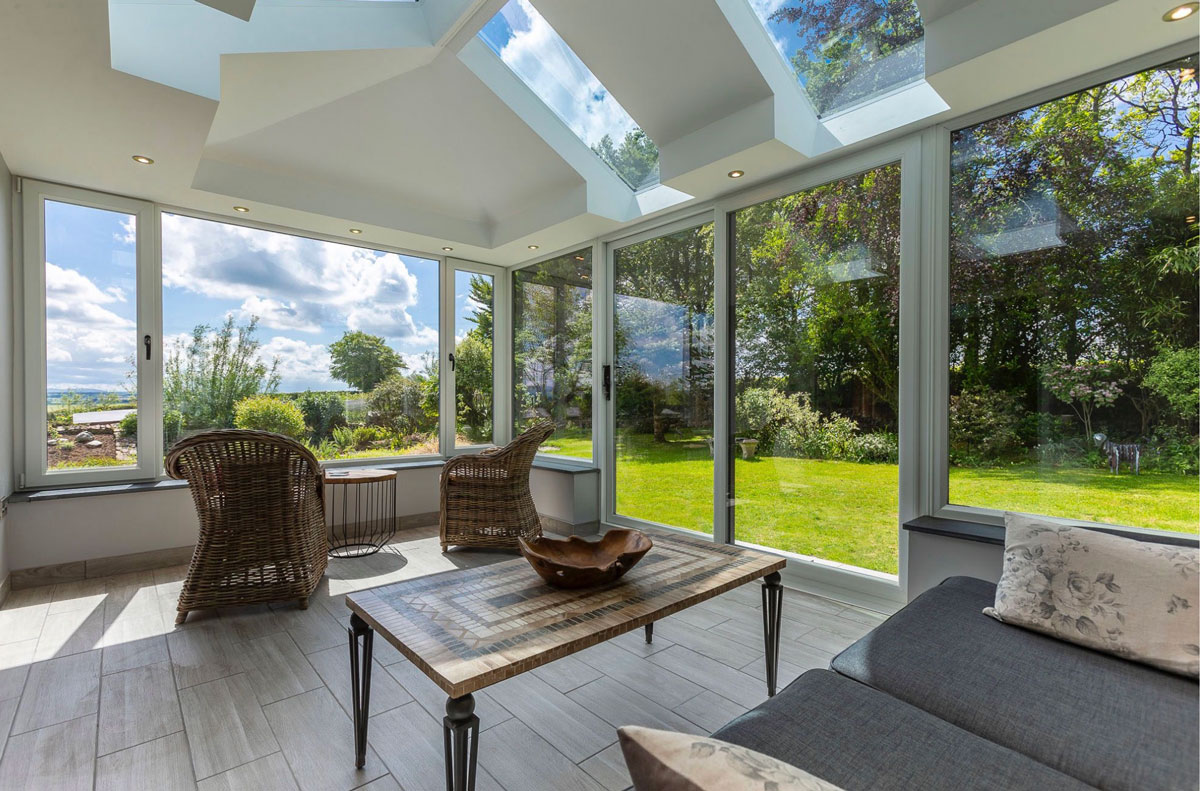 Guardian Warm Roofs
The solid, lightweight alternative to traditional conservatory roof
The Guardian Solid Roof is built with longevity and quality in mind. The roof itself was developed to ensure that customers can use their conservatories throughout the year owing to the fully insulated Guardian Roof.
Exceptional Installation time
Guardian Roofs are prefabricated to the exact requirements of your roof we are able to speed up installation times. This means a full installation in as little as 3 days.
Energy Efficiency
Through independent reviews and tests, it has been proven that the solid roof is able to produce U Values which are as low as 0.18 W/m.K. Drastically reduce energy bills, lowering a home's carbon footprint.
Sun glare and temperature control
Sun glare is reduced from the tiles alone and prevents the conservatory from getting too warm in summer. It also ensures that there is no sun-fading of furniture or other items. In addition to this, because of insulation used in the Guardian Roof, we are able to effectively regulate the temperature and guarantee a lifetime thermal performance.
Why choose a Guardian warm roof?
Sun glare & temp control

Fast Installation time

Energy efficient

Retro-fit roof styles

100% thermal reliability and continuous insulation

Four tile options

Velux or 

Solstice rooflights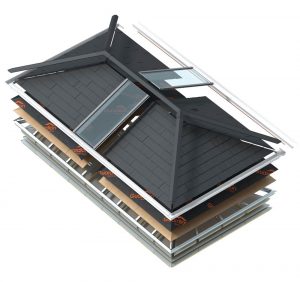 What goes into the Guardian™️ Warm Roof?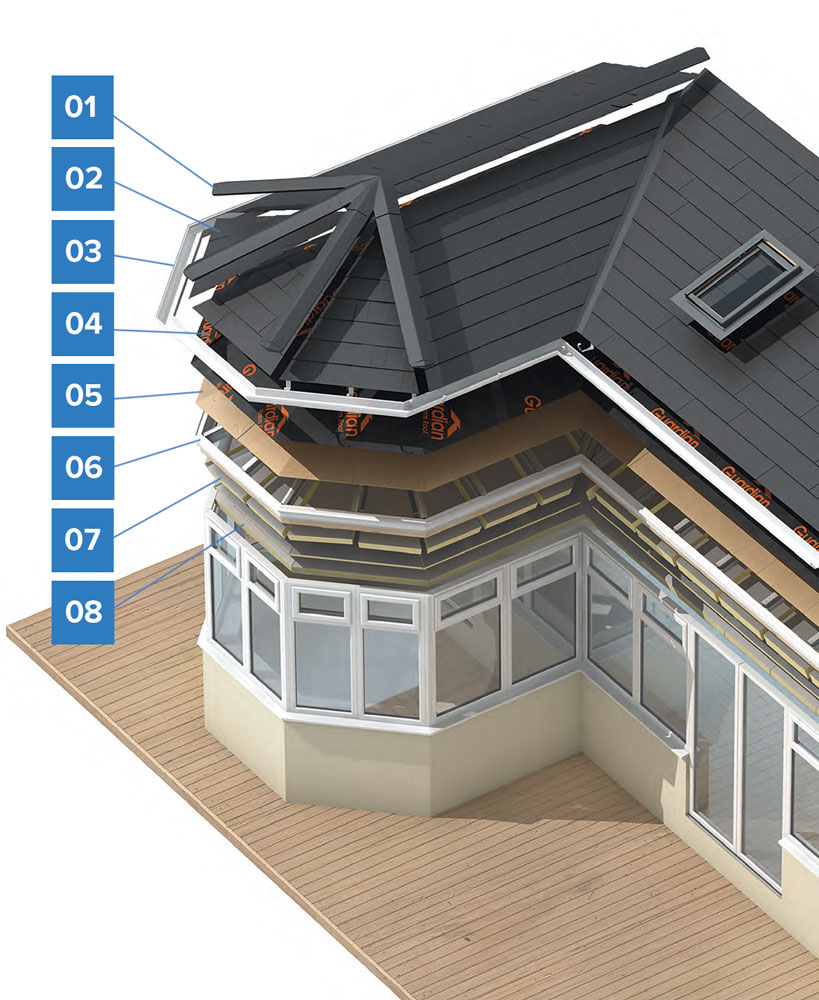 Ridge capping: Made to match the roof tiles or slates

Roof tiles & slates: Available in a range of beautiful colours to match or compliment your the existing roof tiles of your home

Skylights and roof windows: Thermally efficient roof windows and skylights are available in several options

Guttering system: Standard rainwater system

Plywood: Exterior grade plywood forms part of the roof's structure

Aluminium frame: Pre-engineered, lightweight, structural frame of the roof

Insulation: Three layers of high-performance, rigid, insulation board (125mm). The insulation achieves a U-value of only 0.18 W/m.K

Waterproof membrane: Waterproof membrane is laid over the plywood and secured into place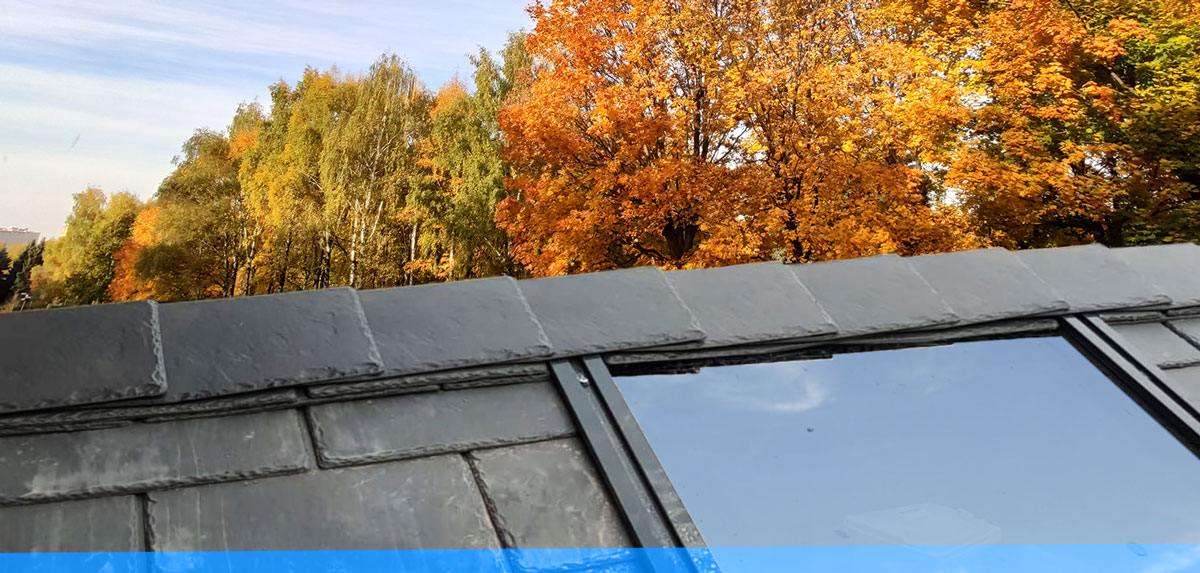 Tile options
The time we put into developing the conservatory roof would be pointless if the tiles on top added too much weight.
Our concrete-look and slate-look tiles are strong, durable, and most importantly, extremely light compared to traditional tiling.
These tiles are suitable for roof pitches as low as 15 degrees and require no more maintenance than regular roof tiles.
Importantly, the colours can be closely matched to the existing roof to maintain the character of the house.
Slate Effect Tiles
Tapco slate effect tile
With authentic surfaces and edges, our TapCo slate tile highlights its handsome character, at the same time enhancing roof performance through innovative design. Unlike natural slate, the TapCo roofing slate won't break or delaminate and comes with a 40-year warranty.
Guardian™️ slate effect tile
This tile has been manufactured and developed to be a perfect fit for Guardian™ roofs. It provides all the benefits of traditional slate so looks the same but it does not have the potential to become sharp and brittle if it should break.
Slate Effect Tiles
Metrotile shingle tile
The Metrotile shingle tile option has a unique hidden fix system that provides a seamless finish between tiles.
These tiles are pre-cut at factory level for accuracy and are incredibly lightweight in comparison to concrete, so work well with the Guardian roof system.
We have a variety of colours available to replicate a traditional concrete tile finish and can install our tiles down to 15 degrees in pitch.
Guardian™️ Esprit shingle tile
This tile has been manufactured and developed to be a perfect fit for Guardian™ roofs.
Velux rooflights
The Velux roof windows can be an excellent addition to your Guardian Warm Roof, they come in different sizes with different options of glazing and finishes. They help to let in the natural light and help with air circulation.
You can control and automate the light, climate and indoor ventilation using Velux Active the latest smart home technology and solar powered roof panels with Velux Integra.
Solstice rooflights
The latest innovation to the Guardian Warm Roof is Solstice skylights
Visually stunning and letting the natural light flood in to your living space, these are the perfect option for a beautifully stylish design to your new living space.
The double glazed skylights are thermally efficient, full roof skylights or individual skylights options available.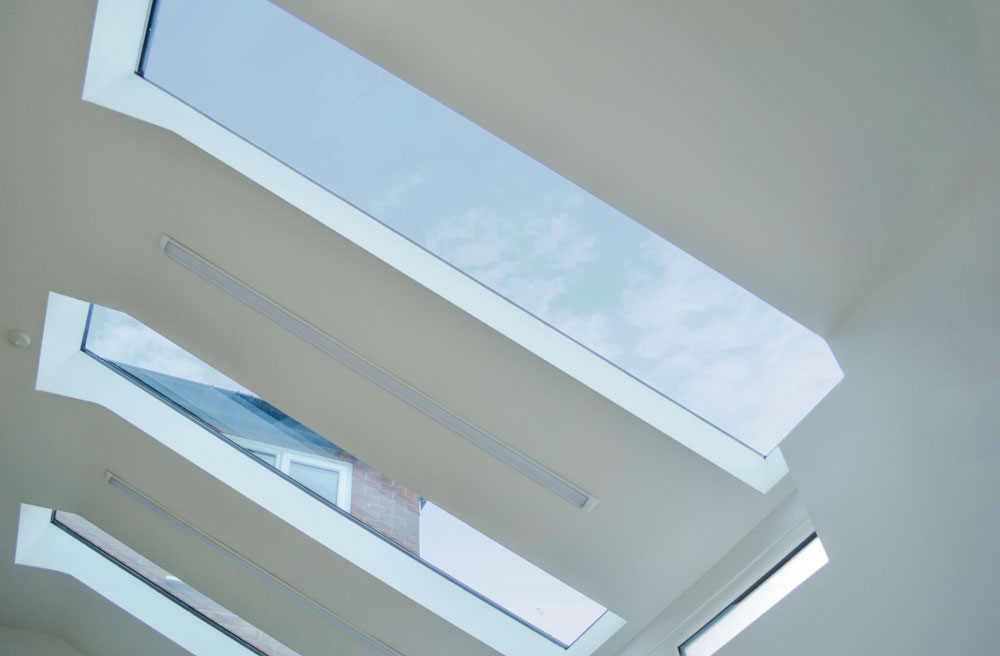 Lantern rooflights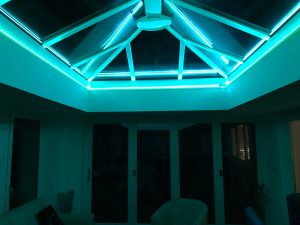 The solid, lightweight alternative to traditional conservatory roof