Residence ² is squared and bold, for the contemporary home. Beautifully flush outside, with a defining square detail inside, it is available in a range of maintenance-free finishes and styles.
R² outperforms many other systems with an impressive 9 chamber design and smart features.
Equal sight-lines
R² is extruded to market-leading standards. This effective and high performing solution offers clean lines and advanced functionality. An elegantly flush sash exterior and a unique square interior gives residence² its bold and modern appearance.
All glass sight-lines are perfectly equal providing symmetry, complementing the internal stylish square detail.
Lock & hinge retention
R² boasts superior screw retention reinforcements, locks and hinges are secured firmly into position. Specifically designed for the additional weight of triple glazed units, allowing heavy duty hinges to fit and operate normally.
Styles
R² can be fabricated into many styles including open-out windows, shaped windows, fixed windows, french windows, bay and bow windows, orangeries, conservatories, single and french doors.
Colours
Aside from the natural Chalk White frames, the R2 comes in these colours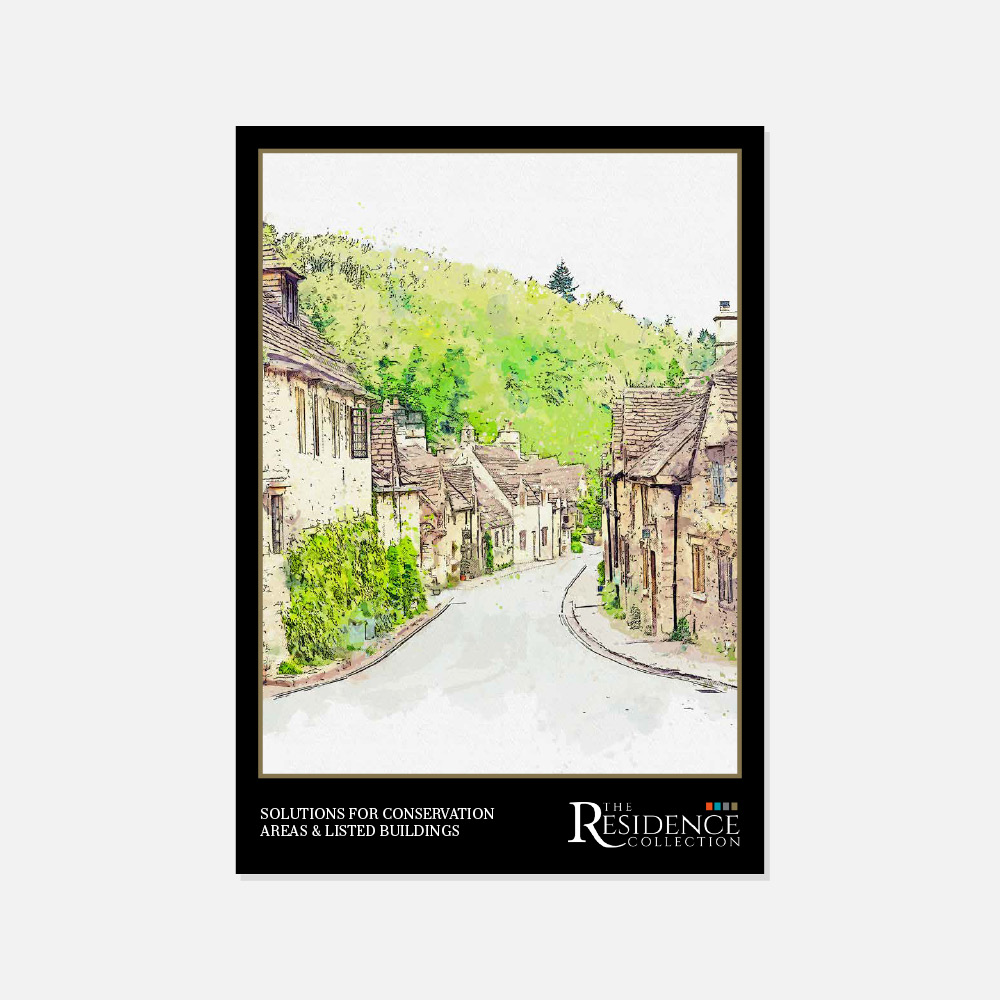 Residence Planning & conservation brochure
Solutions for conservation areas and listed buildings
Your Residence Collection windows are the essence of style and equally suited to both modern and period properties. Create a perfect matching window with the Romatopola Range of handles and stays inspired by the appearance of 19th Century ironmongery, but with modern production processes. Your windows will exude sophisticated elegance with the Romatopola Monkey Tail or Pear Drop designs.
Available in a range of nine exclusive finishes, the Romatopola hardware is both attractive and practical. The handles are all key locking for added security, with a positive stop (which prevents over-stressing the gearbox). The matching stays are available with working or dummy pegs to give you full flexibility when customising your windows. Add charming character to you already beautiful Residence Collection windows.
You can specify traditional Residence Collection butt hinges to maintain original features which modern windows often lack as the hinges are hidden, losing the character appeal. Choose from working butt hinges or dummy hinges, both provide authentic kerbside appearance in exquisite ironmongery. Working peg stays and working butt hinges can recreate a true timber alternative and are a great addition to compliment your Residence Collection. Butt hinges are available in Painted White and Black.